Friday, 16 April 2021
Anya Hindmarch is a high-end fashion accessories brand committed to creativity, luxury and sustainability. It was the first accessories designer to host an on-schedule London Fashion Week show.
In 2007, Anya Hindmarch unveiled its "I Am Not a Plastic Bag" tote. Its slogan and commercial success did two things. The first was to bring the issue of plastic waste to public attention, leading to the introduction of the plastic bag charge in the UK. The second was to establish Anya Hindmarch's eco-friendly ethos.
More recently, Anya Hindmarch presented its "I Am a Plastic Bag" campaign to draw focus to the circularity of materials, while expanding its fashion-forward luxury accessory-based lines.
In short, Delta Global were asked to widen this ethos of circularity and sustainability via the brands Responsible Packaging creation. Incorporating messages such as 'Please Recycle' and showcasing the brands stamp of approval from Positive Luxury - which recognises its positive actions and efforts towards becoming a more ethical business - the packaging is a nod to the brands sustainable commitment.
The Brief from Anya Hindmarch to Delta Global
Anya Hindmarch approached Delta Global with a defined goal: to enhance their sustainability culture by rethinking their packaging solutions.
It was imperative for Anya Hindmarch to enhance the user experience and to do so with packaging that reaffirmed the brand's reputation for imagination and creativity.
As the first point of contact between customer and brand, the packaging needed to communicate originality and daring in a way that was entirely aligned with the brand's sustainable ideals.
The customer needed to immediately comprehend the reusability of the package and it had to be rendered in a style that was unique to Anya Hindmarch.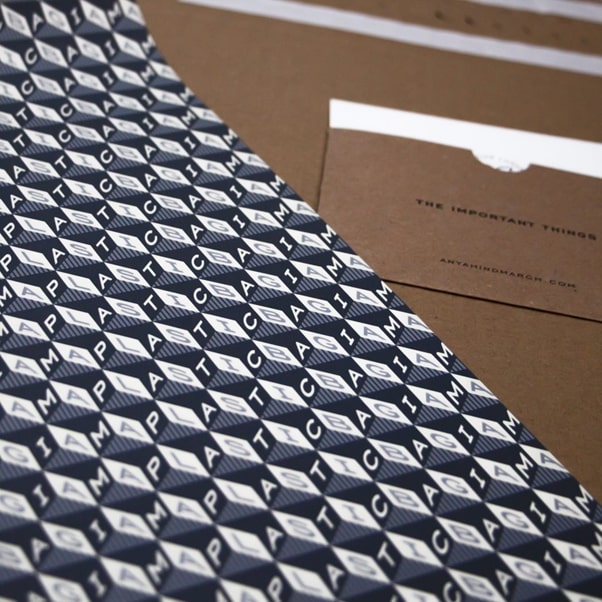 The Packaging Solution from Delta Global
Delta Global worked with the luxury brand to develop a range of unique FSC mixed material corrugated mailing boxes. After reviewing sizes required for various products and orders, we minimised the number of size options and ensured the ranges variety of sizes also minimised wasted space.  
Any additional inserts and documents, such as care cards and return forms were minimised or placed online to reduce the use of paper. The result was a sleek and compact envelope pocket which fits a simple message card produced using FSC mixed materials.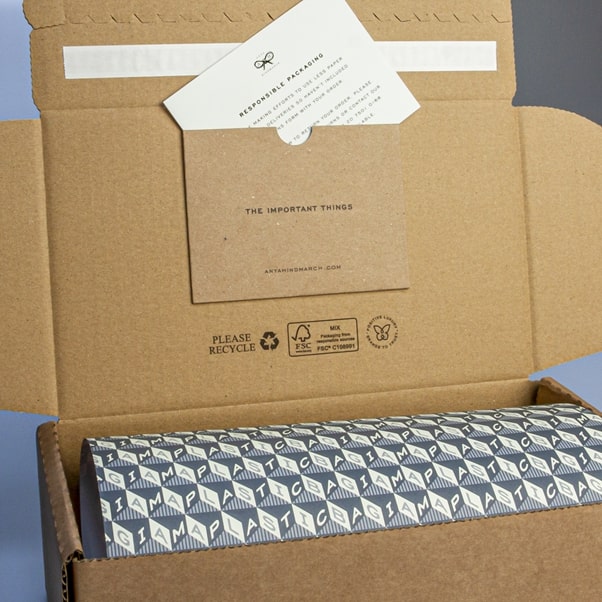 The Results
The new packing has become a core element in Anya Hindmarch's overarching eco-friendly philosophy. With the inclusion of prominently positioned recycling messages, FSC and Positive Luxury symbols, and a responsible packaging card insert, that philosophy is cleanly and clearly communicated to the customer.
The sustainable packaging is central to the brand's commitment to removing all poly bags, cutting use by around 50,000 bags a year. All plastic tags and foam have been cut and silica gel packs replaced with dry clay sachets - which are both compostable and biodegradable. Tape has also been switched to a bio-friendly cellulose alternative.
For more information on our range of sustainable luxury packaging contact the Delta Global team today