Friday, 19 November 2021
The fashion industry took a huge financial hit in 2020. Global sales were at the worst they have been since records began, with an average decline of 15-30% across Europe, China and the US.  
But while the industry was undergoing a gradual shift pre-pandemic, with greater focus being given to sustainability and digitisation, the effects of the coronavirus have accelerated the situation.  
Take the likes of Debenhams and Arcadia Group as an example. Both had been facing difficulty long before the pandemic hit, yet forced store closures and changing consumer needs have resulted in the demise of their traditional forms of physical retail. 
Even the powerhouse that is Rihanna, in agreement with LVMH, decided to press pause on the high end Fenty fashion house, "pending better conditions".  
Because of the pandemic, both businesses and consumers have been forced to adapt to new needs and ways of doing things. And for luxury fashion, there are some unique challenges presented as a result of these shifts. For instance, financial strains are having an impact on high end purchases.     
There are several things these brands need to do in order to reposition their offerings and meet the newfound needs and expectations of both the market and their consumers.
For instance, we have seen Selfridges take a bigger step towards the resale market, Harrods open its first outlet store and a number of big names join alliance to combat some of the industry's pitfalls, such as far too frequent collections and stockpiling for predicted demand.  
Similarly, a more recent move by Alexander McQueen will see the fashion giant team up with Vestiaire Collective. As part of the "Brand Approved" programme, Alexander McQueen will authenticate and buy back second-hand items, and then list them on the resale platform.  
But as well as these adjustments to business models and propositions, there are some smaller, less obvious adaptations brands can make in order to win back the trust and confidence of their consumers. And rethinking packaging functionality, usage and design is one of these.  
A sustainable future 
If we consider the steps many of these luxury brands have been taking, it appears sustainability is key to their recovery plans. And while their current efforts are encouraging to see, more can, and should, be done at the packaging level too.  
Often, packaging is an afterthought. But in a world in which the climate and consumers are changing at a rapid pace, consideration of any outer and additional elements of a product offering need to be given more attention, especially when these become a customer's responsibility after a purchase.  
Ultimately, customers are beginning to make more conscious decisions when it comes to purchasing goods, and they favour brands that enable them to make more ethical and responsible choices. And the reason this consideration should be extended beyond the product and be applied to its packaging elements too, is because the outer shell and inserts are already thought of as waste.  
Changing this perception is an essential to increase the value of your brand in the minds of consumers, which can significantly help influence their purchasing decisions. And in knowing that their choice is also good for the environment, their trust and confidence in the brand and what it stands for will follow.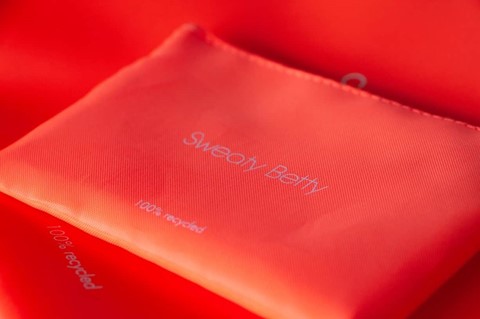 Changing these perceptions is not rocket science, either. All it really takes is some creativity and strategic thinking. And there are many options available, from increasing the quality of materials to encourage reuse, through to adding additional functionality, much like we did with Sweaty Betty, whereby pouch zips doubled up as hair ties. 
In luxury fashion, this additional value can help consumers justify higher priced purchases. As well as getting more for their money, consumers can be reassured that they are supporting a brand that aligns with their ethics and beliefs and together, they are both doing their bit for the environment.  
Find Your Luxury Product Packaging Solution
For more information on cosmetic packaging solutions, contact the Delta Global team today.