DELT

A
GLOB

A

L
CRE

A

TES
RE-US

A

BLE
SWE

A

TY
BETTY
B

A

G
Sweaty Betty is dedicated to empowering women to achieve greatness using their activewear, which is designed to provide both comfort and reliability. This very ethos is what inspired them to create a new product packaging solution, encompassing these values while also capitalising on the rising importance of sustainability.
The athleisurewear trend isn't slowing down any time soon and with online shopping continuing to grow, Sweaty Betty knew it needed to go above and beyond for its clients by providing a packaging solution that could live on past its original intended purpose of simply delivering goods to the doors of consumers.
The Packaging Brief from Sweaty Betty To Delta Global
Sweaty Betty came to Delta Global to help them develop an innovative packaging solution that offered more than what meets the eye by re-purposing plastic that would otherwise enter landfill. It was essential for the packaging to reflect the bright, fresh, and forward-thinking persona of the brand, while still addressing the needs of their eco-conscious consumers.
Knowing that for their customers, packaging was the first point of physical contact with their brand, the packaging had to not only tick the sustainability boxes, but also provide a luxurious feel that offered an enjoyable unboxing experience.
Instead of its packaging going to waste, Sweaty Betty was determined to create something that could have an extended lifecycle. This is when the Sweaty Betty gym bag and coin purse was born.
The Packaging Solution From Delta Global
Made from 100% recycled bottles, the team at Delta Global worked closely with the client to develop the Sweaty Betty bag. Originally designed as shipment packaging for its athleisurewear, the bag could go on to be used as an aesthetic gym bag, cosmetics pouch, or waterproof swim bag due to its breathable material, convenient size and zip closure.
The plastic bottles are collected,  sorted and bailed,  before being shredded and washed. This reused content is then extruded into threads that are then woven into new RPET fabric.
It was important for Sweaty Betty to provide that little extra for its clients, and so Delta Global reimagined the standard zip pull and made it into a fully functioning, branded hair tie, offering even more value to the customer.
The orange, fluorescent design of the Sweaty Betty bag perfectly represents the fun and uplifting nature of the brand, while the beautifully printed white logo was a subtle nudge to the high-quality you'd expect to see from the brand.
Image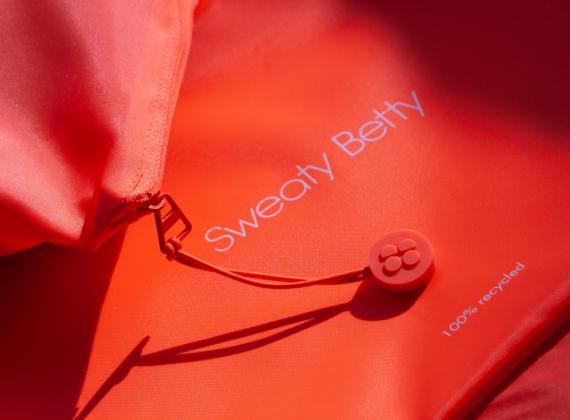 Image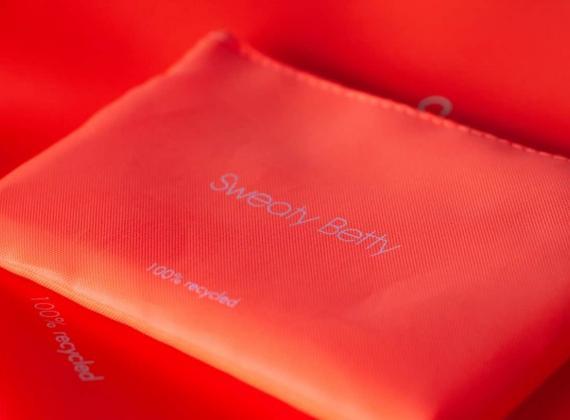 The Results
Sweaty Betty bags can be reused time and time again for whatever the customer's desired purpose due to the stylish and durable design. Whether you need a cosmetics or swim bag, or even a gym wear bag, the Sweaty Betty gym bag has got you covered for fitness, functionality, and fashion.
The making of this project has saved 2.7 million plastic bottles from entering landfills, oceans, and incineration, allowing Sweaty Betty and their clients to get active on the environment.
Sweaty Betty can now more positively contribute to the sustainability movement by reducing the amount of packaging waste that is sent to landfill and gaining customer appreciation and loyalty.
For more information on our range of innovative packaging solutions, including sustainable packaging and luxury packaging, contact a member of our team today. We are proud to have the ability to work with businesses in varying industries to help their packaging dreams come to life.