Tuesday, 8 June 2021
Luxury streetwear brand and Esports were, for eager trendspotters, always destined for major collaboration. For gamers and fashionistas born into Gen Z, streetwear and gaming are the principal pastime and predominant style. 
When a significant collaboration arrived, it involved streetwear mystery box provider Heat. Founded as recently as 2019, Heat began by harnessing trends - now they set them.  
Its concept is simple: a curated selection of luxury streetwear at discounted prices. Heat's portfolio now includes co-branded projects with premium brands including Off White and Palm Angels.  
Heat partnered with Esports giant FaZe Clan, perhaps the most popular digital sports organisation in the world, and co-owned by Beats founder and entrepreneurial titan Jimmy Iovine.
The capsule collection was enabled by Delta Global, who designed and produced the luxury packaging, an indispensable component to the collaboration's realisation and consumer experience.  
How did the packaging construction help the product's success? 
At the core of the Heat brand is the unboxing experience. And, as its swift success demonstrates, it has delivered memorable brand/consumer encounters with supreme consistency. By creating a new, distinct, capsule packaging, we were able to enhance this brand/consumer experience.  
Our creative process begins with the understanding that packaging is the first physical interaction between person and product, consumer and brand. 
We've previously underlined how to avoid the pitfalls of luxury product packaging. And with the Heat x FaZe Clan collaboration, eluding those hazards was of double importance.  
The importance of packaging to the Heat brand and its customers centralises the capsule box experience. The anticipation and excitement of a pioneering, exclusive new drop was to be harnessed, with momentum from consumer enthusiasm kept and encapsulated.  
To achieve this, we switched the usual Heat black box and white text design to a new colour. At Delta Global, we loved Heat's original box – it communicates current luxury retail trends succinctly and elegantly. 
But the FaZe Clan capsule had to have a different packaging solution. To seamlessly integrate both brands, and incorporate Heat's pre-existing luxury packaging typeface, we opted for red, with an equal aligning of both logos. Consequently, the box is presented with a colour that is iconic to the Faze Clan enterprise.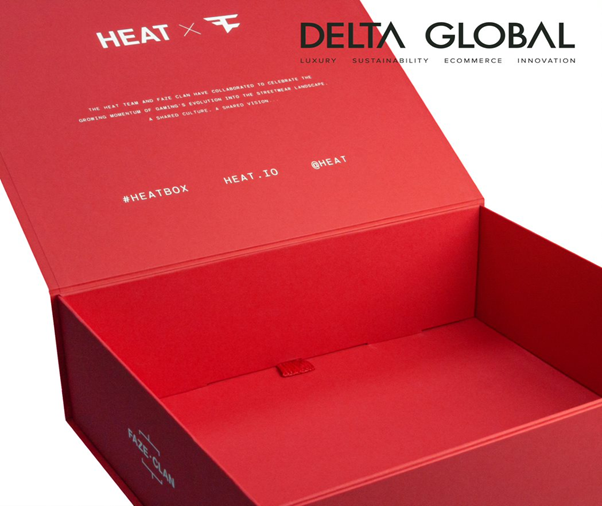 Brand value from sustainable commitments  
With Heat and FaZe Clan largely appealing to a younger, more environmentally engaged and aware consumer, the new packaging had to exceed merely being an attractive container.  
This is a generation that expects brands to consciously adopt sustainability, and are willing to pay more in recognition of its importance to carbon reduction.  
Indeed, studies have shown that Gen Z and Millennials' readiness to increase expenditure for sustainable packaging is far greater than preceding generations.  
At Delta Global, utilising recyclable materials is an elemental process, and we ensure that the packages we produce adhere to comprehensive sustainable criteria. 
However, working closely with Heat, we were able to distinguish the packaging with bespoke technology - the Delta Removable Magnet System®.  
The easy-to-remove magnets allow complete recyclability of packaging without compromise to package security. Too often, packaging appears to be sustainable, yet is restricted at recycling centres by unremovable magnets or laminate coating. The Delta Removable Magnet System® eliminates these frustrating impracticalities.   
Durable means reusable
  
Throughout the creative process, we were mindful that some consumers, with concern to luxury or exclusive capsule packaging, prefer reusability over recyclability.  
We ensured, through robust structure and premium quality materials, the packaging can be reused and repurposed for years to come.  
The increase in luxury packaging re-positioned as decorative displays, storage for gaming equipment or kept preserving the value of the original products themselves, is harnessed in the Delta Global packaging solution for the Heat x FaZe collaboration.  
Achieving this while aligning the ethos and aesthetics of two pioneering brands in an innovative collaboration, with consideration to consumer demographic and their sustainable ideals, makes this a truly exciting packaging product that signals the future of luxury brand collaborations.  
Find your luxury packaging solution 
If you operate in the luxury sector and you want to innovate or refresh your product packaging, get in touch with the team at Delta Global today.