Friday, 19 November 2021
For any brand or retailer, modern marketing strategies can appear complex. And, as a manufacturer of bespoke packaging in the UK, with headquarters across the globe, our clients are looking to align these complexities.
If we split the ages of marketing into three epochs, the value of branded packaging boxes has increased through each of them. Custom packaging boxes have been crucial historically and in this, the third marketing age – the age of Instagram – superior branded packaging boxes are central to even basic marketing approaches.
What we might refer to as 'The Mad Men Age' focused on print, broadcast and radio, with bespoke packaging a secondary concern, especially in the UK, where the market was a fraction of the rapidly expanding affluent consumer base in the US.
As we entered the second era – The Digital Age – digital media, video, and search amplified the visual, meaning a greater emphasis on design and branded packaging was required.
The explosion of Instagram and other platforms that socialised social media – encouraging brand/consumer conversation and engagement – has underlined the importance bespoke packaging, not just in the UK or US, but across all territories.
Now, to meet the demand of a changing and tumultuous market, good packaging must supply eco-friendly packaging boxes, an unboxing experience that can potentially be shared digitally, and design that is symbolic of brand values, differentiating it from a raft of competitors.
Below, we look five brands currently mastering the art of modern bespoke packaging.
Acne Studios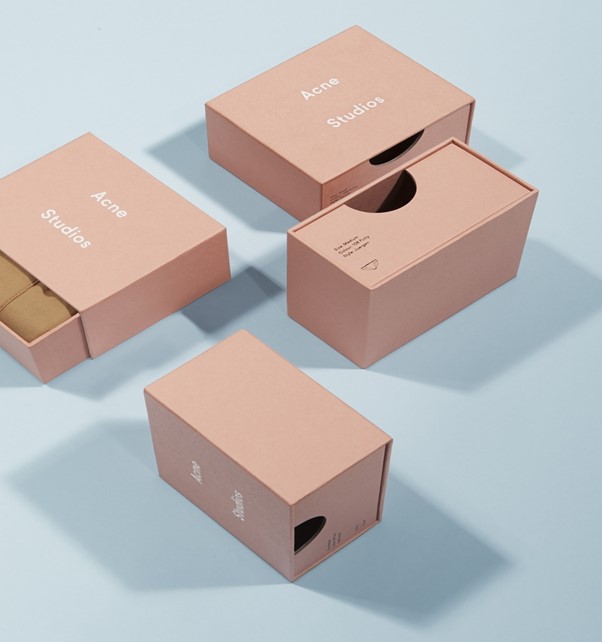 As you may expect from a fashion brand that draws inspiration from the art-world, Acne Studios' packaging is beautifully designed, and its soft salmon colouring is distinctive, subtle and emanates a tempered luxury feel
The small window invites a glimpse of the product, both exposing the item and concealing it enough to build anticipation for the all-important unboxing experience.
Acne Studios have a robust commitment to sustainability, reflected in the utilisation of Japanese custom-made paper, which is easily and fully recyclable.
Happy Socks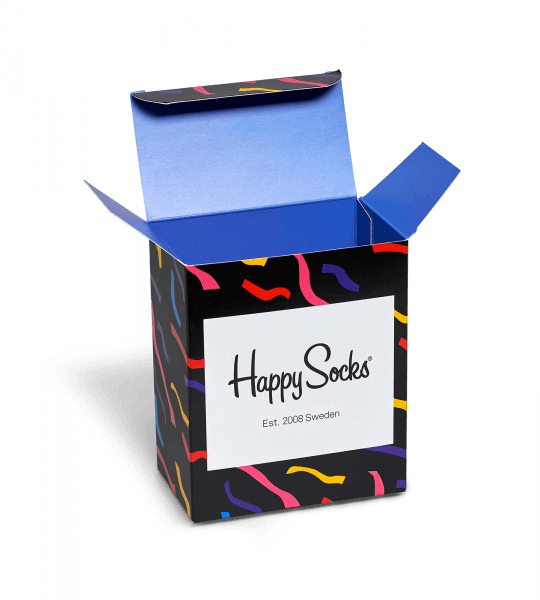 Bespoke packaging need not incorporate intricate design and meticulous detail, as Acne Studios chose to do. Recognising where your product sits in the market, and how it can appeal to the consumer, may mean a simpler design is needed.
Yet simplicity should not be mistaken for boring. Happy Sacks have manged to distinguish its brand with astute use of colour for its branded packaging boxes, skilfully inviting the unboxing moment.
The brand manages to radiate the essence of its ethos with simple use of vibrant imagery including vivid bananas over pink backgrounds, pick 'n' mix confectionary or, as seen above, multicoloured ticker tape.
Happy Socks is all about trying to "spread happiness and colour to every corner of the world". If you'd never encountered the brand, you would, in an instant, know the precise nature of its products.
Sweaty Betty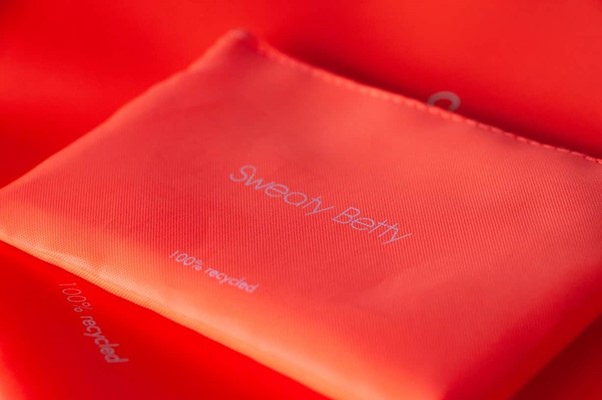 The Delta Global team worked with Sweaty Betty to create its completely eco-friendly packaging. Its original function was to ship its athleisurewear. However, to reduce the brand's carbon footprint, we designed bespoke packaging at our UK base in Leicester that could be repurposed as a gym bag, cosmetics pouch or waterproof swim bag.
You can read more about the Sweat Betty branded packaging project in our case study.
Heat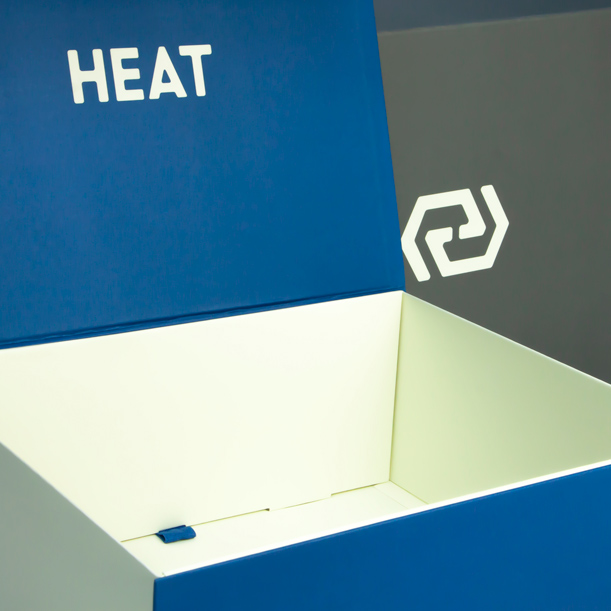 If you are curious as to the present importance of packaging, Heat are one of several brands for which packaging is as arguably equal to the items that await inside.
Heat is a subscription service where the consumer buys a box which contains mystery luxury streetwear. A new package signals a new collection. That packaging can be so central to a business model speaks to the cruciality of thoughtful, well designed and innovative packaging.
The success of Heat owes much to the unification of two key considerations for any brand and retailer – sustainability and packaging.
An advantage of positioning packaging at the heart of a brand is the ease with which one of the phenomena of 21st century marketing can be plugged into, namely brand collaborations. You can read about Delta Global's' packaging solution for the Heat x FaZe Clan in our case study.
M.M. LaFleur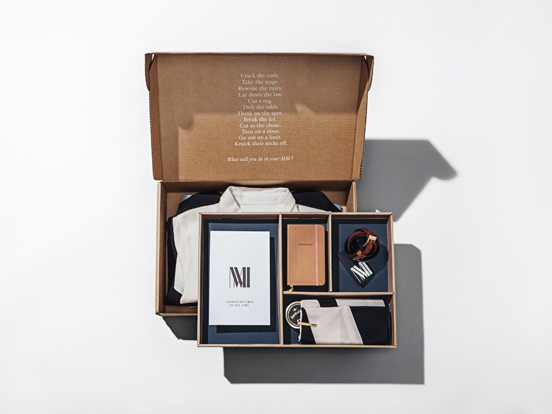 Being a direct-to-consumer brand gives further emphasis to the importance of bespoke packaging. While M.M. LaFleur has yet to impact the UK in the same way it has the US, it's ingenious packing will, no doubt, find an eager consumer base on both sides of the Atlantic.
Brand concept and packaging are entwined. Customers can visit its site and allow the styling team to curate a 'bento box'. This box can be held like a suitcase once the consumer has 'punched-in' the cut handle at the top of the branded packaging box.
The interior of the box is split into the layers, mimicking the format of traditional bento box. In each compartment is an item of clothing.
The packaging features strong brand messaging, emphasising its core values, with poems, the website URL and M.M LaFluer's hashtag combing to create calls-to-action.