DELT

A
GLOB

A

L
CRE

A

TES
SUST

A

IN

A

BLE
P

A

CK

A

GING
SOLUTION FOR TED
B

A

KER
Ted Baker was styled after its founder, Ray Kelvin's alter ego, a persona of an "intrepid aviator, an all-round sportsman and the consort of princesses and Hollywood beauties." From this was borne Ted Baker's essence of charisma, creativity, and quirkiness.
First launching as a men's shirt specialist in Glasgow, Ted strived to communicate the brand's special personality from the get-go, offering free laundry services for every shirt purchased. Quickly, the brand developed the title of 'No Ordinary Designer Label'.
Now, Ted Baker has stores across the globe, and retails across numerous categories, including women's, kids', and homeware, in its mission to make Ted Baker "the most engaging British lifestyle brand" in the world.
The brief
As part of this mission, Ted Baker announced its goal of sourcing 100% more sustainable materials by 2030. Putting actions to words, they tasked sustainable luxury packaging company Delta Global with the aim of revitalising their already iconic packaging in line with their re-emergence as a brand.
Possessing such distinguishable aesthetic values, Delta Global had to ensure the packaging reflected the philosophies of the brand, while elevating the sustainable qualities of the material.
Ted Baker required the bag to be functional, adhering to the traditional format of in-store bag packaging, meaning that transport and ease of mobility should not give way to over-design. A balance had to be found where originality meets performance.
The solution
The completed product is a sustainable bag that incorporates brand consistency and supports core-customer expectations. Delta Global retained the positioning of the brand name, in its central location, keeping the essential messaging prominent, while upgrading the colour scheme.
The result? A pink pantone combined with a backdrop of sage green, taking the direction of 2022's forecasted Colour Trend. Together, the pink communicates drive and passion, while the green brings a refreshing, calm feel, personifying the traits of the Ted Baker persona.
Sustainability has been elevated utilising Forest Stewardship Council (FSC) accredited paper, which means that it's all sourced from well-managed forests, hence it's eco-friendly and sustainable. The pink paper handles are FSC accredited, as well, meaning guilt-free packaging, inching Ted Baker closer to empowering "conscious consumption".
Image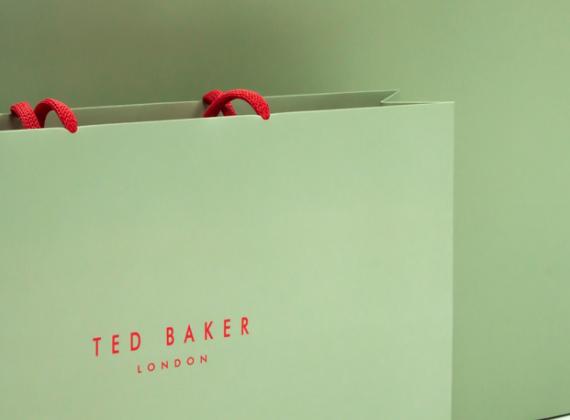 Image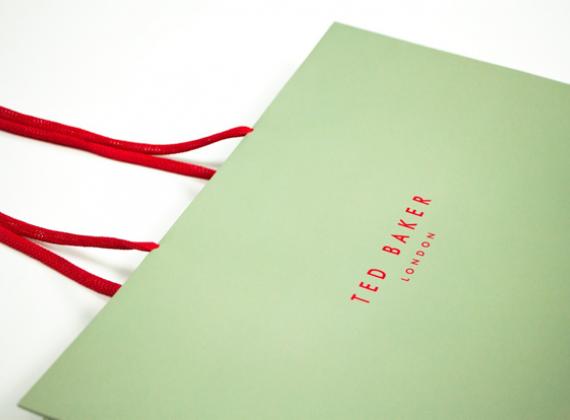 Find your luxury packaging solution
For more information on Delta Global and our services, get in touch by visiting our contact page.