Thursday, 18 November 2021
Box packaging design must seduce, convince and inspire. Amid the multitude of packaging that sits bright and appealingly on the shelves, box packaging must first work to seduce the consumer through design.
And, once attention is gained, it must convince the potential customer to not simply admire the package, but to make the purchase. When the consumer inspects the packaging more closely, it must resonate with their priorities and consumer ethics.
If the box packaging design can complete these two stages, and a purchase is made, the packaging must provide an unboxing experience memorable and pleasing enough so that the final stage – loyalty – becomes an inevitability.
The last stage is especially important for ecommerce only retailers, who must consider the question of 'how to package a product?' more careful than most brands, since packaging will be the initial touchpoint between brand and consumer.
The same applies to ecommerce-specific packaging. In these instances, your box packaging design not only wins customers, but brand ambassadors who will share their unboxing experiences through social media and unboxing videos.
The unboxing moment is no longer limited to special occasions. Around 90,000 people search for unboxing videos on YouTube each month.
The amount of time people have spent watching unboxing videos is, on mobile phones alone, the equivalent of watching the film Love Actually 20 million times. That's a lot of time, and lot of priceless, organic, word-of-mouth marketing.
Brands and retailers must also consider that, in an increasingly competitive market, if you are not yet giving serious thought to maximise the potential of your box packaging design, your competitors likely are.
The benefits of custom product packaging, then, are invaluable. But how do brands and retailers give themselves the best chance of leaping from the shelves and into the trolleys – digital or otherwise – of eager and loyal consumers?
Factors to consider when choosing a packaging materia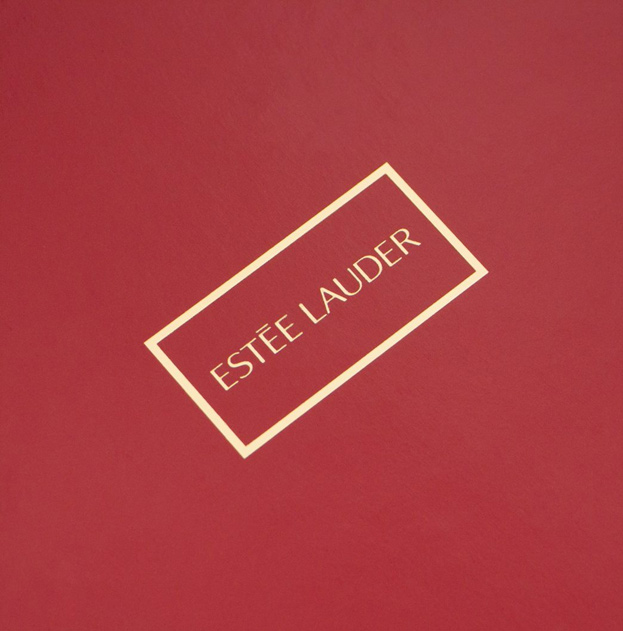 A box packaging design specialist will generally advise you to understand several factors. Before you decide on how to package a product, you will be asked to think about your brand, so that the brand values and packaging aligns.
Other factors to consider when choosing a packaging design will include thinking of the practicalities – how far is the packaging designed to travel? How robust does it need to be? Then you might be asked to consider the information you need to convey or where the product will be sold.
These considerations are not especially useful to elevating box packing design. They are more about what DHL refer to as the packaging ecosystem.
At Delta Global, we are a luxury packaging specialist that understands that these considerations are the very basics and – important as they are – these fundamentals will not differentiate your product.
Neither will they help win returning customers, or convince an undecided consumer to grab your boxes and excitedly anticipate tearing into the packaging, eager for the item that awaits…
Each packaging that Delta Global produces is ready for this ecosystem, of course. But our success with partners including Tom Ford, Fortnum & Mason, Estee Lauder and MATCHESFASHION is driven by making luxury box packaging design unique, future-proof and customised to the needs and wants of the modern consumer.
To achieve this, we recommend three elements to incorporate when choosing the design of your box packaging.
Embrace luxury
As mentioned above, when we first consider how to package a product, we are hoping to seduce the consumer. To do that, we must appeal to the senses and capitalise on the First Moment of Truth (FMOT), the time when the potential customer encounters your product for the first time.
This why we advocate luxury packaging. Its appeal-to-the-senses factor is unsurpassed. A simple definition of what constitutes luxury packaging is superior materials that feel pleasant to hold, touch and feel.
This will encourage reuse and repurposing, which brings your box packing and brand into the realms of lifestyle product, itself a valuable marketing tool.
The designs of luxury packaging will be sleek, minimalist. They will utilise colour and clear, clean and simple fonts in a way that adheres to the traditions of high-end brands.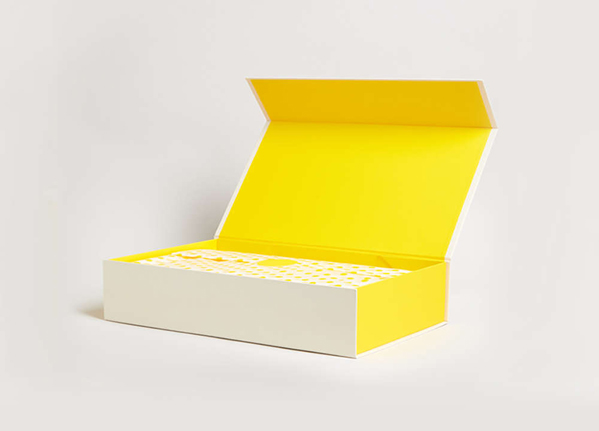 The distinctive canary yellow branding synonymous with Selfridges is a great example of exceptional luxury packaging.
For its ecommerce packaging, Selfridges decided to maximise the impact of what it calls the 'yellow moment' (the moment when the customer first sees the yellow branding).
To achieve this, Selfridges decided on a minimalist, indistinct cardboard-coloured exterior. And, when the consumer lifts the lid, they are greeted with the sunburst of the yellow branding, emblazoned across the entirety of the inner section.
This simple 'magicians' trick' approach provides a luxury packaging solution that playfully beguiles the consumer.
Embrace sustainability
The demand for sustainable packaging is now a consumer and market reality. The increased awareness around climate change and the need for brands and retailers to reduce carbon-footprints – both morally and by law – mean incorporating sustainability into your box packaging design is a necessity.    
There is little doubt that consumers desire sustainable packaging. There are many reports that attest to this, and one of the more striking conclusions of a recent consumer report in the US tells us that around 60 – 70 percent of customers are willing to pay more for sustainable packaging.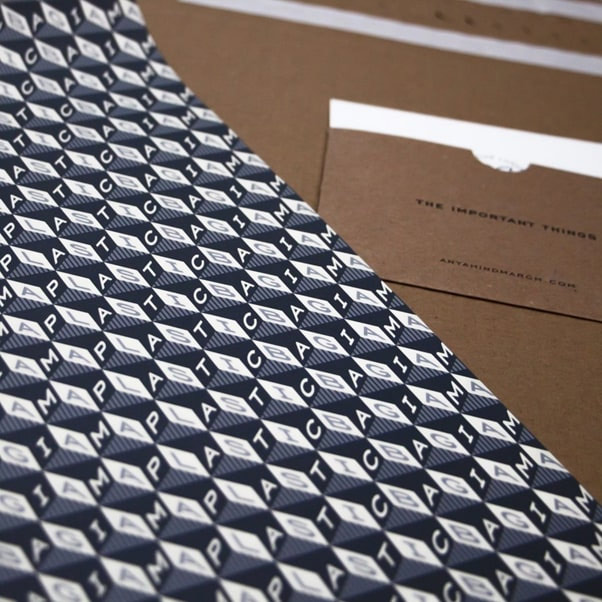 Using sustainable materials will help convince the consumer to purchase your product. We recently helped fashion accessories brand Anya Hindmarch to produce eco-friendly fashion packaging to enhance their sustainability culture by rethinking their packaging solutions.
The customer needed to immediately comprehend the reusability of the package and it had to be rendered in a style that was unique to Anya Hindmarch.
The new packaging has become a core element in Anya Hindmarch's overarching eco-friendly philosophy. With the inclusion of prominently positioned recycling messages, FSC and Positive Luxury symbols, and a responsible packaging card insert, that philosophy is cleanly and clearly communicated to the customer.
Embrace innovation
Delta Global worked with MATCHESFASHION to create a new, innovative packaging solution that helped distinguish the brand from its many luxury retail competitors.
We've selected this as our final design tip because, although it is primarily defined by its innovation, it also supports each of the previous two design factors.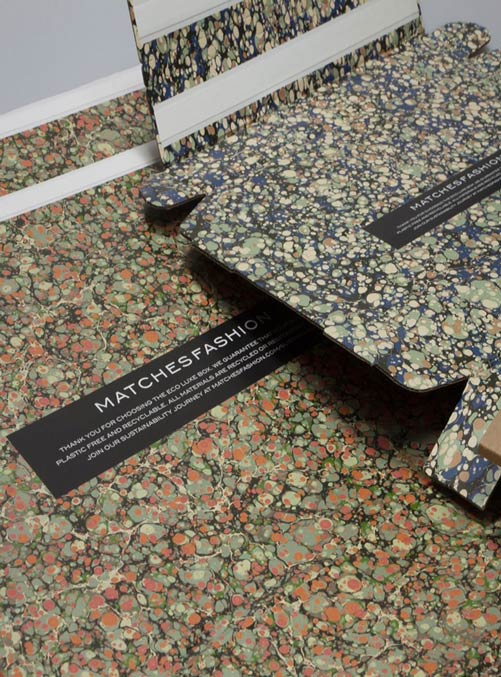 Using our bespoke technology, the Delta Global Removable Magnet System®, we ensured that this box packaging design was future-proofed, met consumer sustainability expectations and, through considered and bespoke innovation, a unique trait of luxury is incorporated.
Including innovative design solutions is highly effective way of inspiring customer retention, and eventually winning them into brand advocates. It allows your brand to speak directly to the consumer in a language unique to itself. And this is the essence of successful box packaging design.
Find you packaging design solution
For more information on our range of luxury packaging, contact the Delta Global team today.