Wednesday, 21 April 2021
As consumer deliveries surge and retailers cautiously reopen, luxury packaging boxes have become an essential way to communicate a brand's story and re-establish its position in the in-store marketplace.
We are emerging from an incomparably difficult year for retailers and brands. Luxury packaging, properly utilised, can entice the consumer into an in-store purchase, or provide a truly memorable unboxing experience.
With aptly selected luxury boxes, a brand can rebuild customer loyalty and communicate its key messages.
And in an increasingly competitive field, one that is adapting to new consumer demands, it is important that brands stand out from the crowd, and drive into the hearts and minds of the consumer.
This is a critical moment for retailers and luxury brands. At Delta Global, we believe those willing to innovate can prosper, and those eager to adapt can flourish.
In our three-step guide, we'll provide simple-to-adopt solutions to ensure your luxury boxes enchant the recipient and charm the in-store shopper.
Understand Your Product
We've previously outlined some brilliant examples of luxury packaging design, and it's an essential requirement. The synergy between product and luxury packing can be challenging to balance.
Last year, Burberry provided a perfect example of how to execute product understanding and incorporate its luxury ethos into its reimagined packaging.
Burberry proposed that by 2025, it would go completely plastic free. In addition, they chose to create paper packaging partly garnered from recycled coffee cups.
The challenge was: how could it use materials with less-than-luxury connotations yet still emanate a feel of luxury?
Burberry's solution was ingeniously resourceful. To communicate the luxe product housed within the box, and as a neat way of signifying its opulent history, Burberry created a bow, crafted from the very same materials used to produce the box, that would envelop each package as gracefully as a gift procured from the luxury boutiques of Bond Street.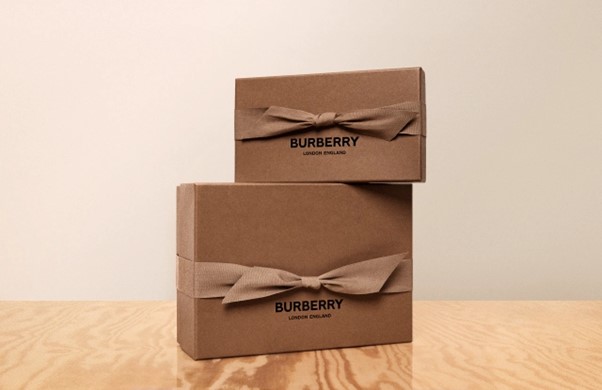 The result is a boxing solution that harmonises the luxury goods inside and communicates the brand values through the exterior. Everything we associate with a Burberry product – elegant, fashion-forward, creatively designed, cool – is encapsulated in this unique packaging design.
Identify Your Sales Channels
Once you've identified your sales points, such as a physical  or an online store, you can start to imagine how your luxury packaging boxes look beside those of your competitors.
Think about how your packaging appears to the passing consumer. Does it transmit your brand's persona in-store the same way it would online?
We recommend, where possible, that you opt for a solution that encompasses both physical purchases and online ordering.
Consumers have been led to online shopping as a normalised way of acquiring luxury items and, in a critical retail year such as the one before us, a solution that endures all outcomes is ideal.
That means providing for all sales channels in a similar way to a brand like Hermès have managed with their 'resourceful orange box'.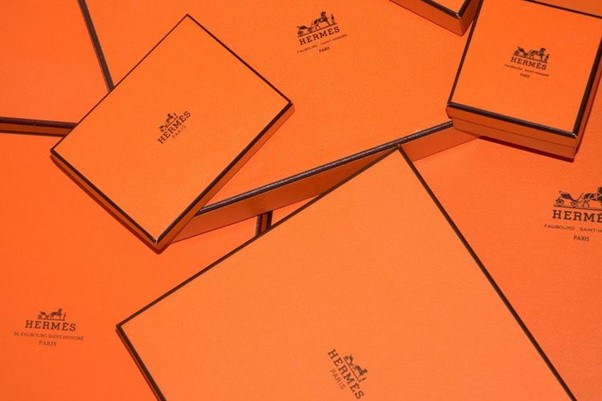 The Hermès package ticks all boxes. A wonderfully noticeable in-store packaging solution and positive unboxing experience that ensures that, since the consumer no longer has the feeling of discovery and excitement gleaned for in-store shopping, the packaging remains memorable and, importantly, reusable.
Encouraged by the brand to repurpose the box, consumers directly engage with the luxury boxes and, with suggestions of how to do so featured on the Hermès website, have a reason to repurchase from the brand indefinitely.
Be Sustainable
The pandemic has introduced trends that have been long predicted. One of these is the consumer demand for eco-friendly packaging. This has been accelerated by consumers requiring products with elongated life, fashion conglomerates needing to reduce long-term costs, and a general awareness of the critical need to reduce the planet's carbon footprint.
In short, reams of wasteful and unsound material are no longer permissible for our luxury packaging boxes.
To not adhere to this new demand is to risk irrelevancy, and is a futile pursuit, given that resources spent redesigning packing would be wasted if the end-result is viewed as outdated. Of all the packing product previously published in our five key steps to outstanding product design, sustainability is perhaps the key component.
Even brands with a robust sustainability ethos can benefit from rethinking their luxury packing boxes. A client of ours, the high-end fashion accessories brand Anya Hindmarch, is such an example.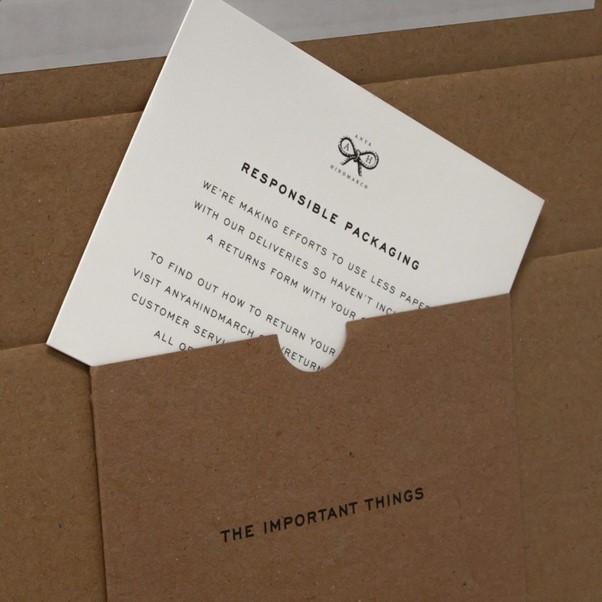 Anya Hindmarch understood the importance of reiterating its sustainability messaging. Working with Delta Global the express aim was to elevate the communication of this via its packaging.
You can read the Anya Hindmarch case study here - it underlines the importance of a coherent, impactful, eco-friendly packaging and messaging.
We've also seen Gucci impressively create new eco-friendly packaging in a project personally lead by Creative Director Alessandro Michele. They went to extraordinary lengths to research and render the packaging, with new inks and intricate wallpaper designs adorning the exterior.
And where a fashion house of that stature leads, the industry is compelled to follow.
For more information on our range of luxury packaging boxing solutions contact the Delta Global team today.