Tuesday, 21 December 2021
Switching from harmful boxing to sustainable packaging materials is a necessity. Wasteful packaging is a major contributor to the climate crisis, with the excess use of plastic and raw material driving reliance on fossil fuels.
This is particularly the case within the fashion industry. In 2016, 65 million tonnes of plastic were produced for garment textiles alone. Combine this with the 32.2 million tonnes of packaging waste a year produced in Europe alone and the situation is clear: packaging manufacturing is excessively wasteful and, therefore, untenable.
It is increasingly difficult for brands and retailers to avoid using sustainable packaging materials. If the moral imperatives do not compel businesses to minimise raw material usage, two additional factors leave little choice.
The first is the market. Consumers have legitimate concerns about unsustainable packaging designs and the lack of circular economy implementation in the process. In short, consumers want sustainable packaging.
Simon & Kucher's comprehensive report into consumer behaviour was the latest to underline this overwhelming preference: 85% of global consumers have shifted towards more sustainable products and brands. Packaging is at the forefront of this switch.  
The second is legislation, laws, and directives. Packaging materials in the UK are already subject to Producer Responsibility Obligations, for example, and carbon footprint targets will impact this further.
Five sustainable packaging mistakes  
The case for switching to sustainable packaging is clear-cut. But the process can a be little tricky. Good intentions can be compromised by an oversight, thereby increasing packaging wastefulness, or using raw materials in place of easily recyclable ones, for example.
You can read more about how to achieve sustainable packaging in our previous post. But the below criteria, if adhered to, will ensure a competitive and credible sustainable packaging solution. 
Excess packaging and waste  
Oversized boxing
Wasteful returns process  
Too much plastic  
Failure to promote your credentials
Where possible, avoid excess packaging and waste that adds little to function. This does not mean an absence of inserts – so long as they serve a specific purpose. Thanking a loyal client or a personalised attachment will not negate your sustainable packaging material so long as the materials are compostable, recyclable or reusable.
Oversized boxing is a common and especially wasteful mistake. It may be that your cardboard box is recyclable, and with cardboard having a 72% recycling rate, it has a good chance of contributing to a more circular economy. But transit protection is where the damage is done. Bubble wrap, foam and other plastics cushion empty space that is not used.
The impact of wasteful returns processes can be reduced with well-designed functionality that encourages a clean opening and easy resealing. In the U.S alone, five billion pounds of landfill waste are due to returns - an obscene amount which could be easily avoided through more considerate packaging design. Using too much plastic and raw material is another common and easily avoidable error that impairs otherwise sound sustainable packing materials.
Lastly, failure to promote your credentials. Don't be shy about communicating the sustainability standards of your packaging. It is what consumers want – by an overwhelming margin – don't be shy about telling them when you have it.
Packaging designs
Ideally, a packaging solution – manufactured to the highest sustainability standards – should also distinguish your brand via design and innovation.  
At Delta Global, we've been commissioned to create several sustainable, luxury fashion packaging projects for clients including Tom Ford, Sweaty Betty and MATCHESFASHION.
All our packaging uses sustainable materials as standard. We are conscious of the drive towards a circular economy, the need to future-proof packaging and distinguishing packaging in a crowded market.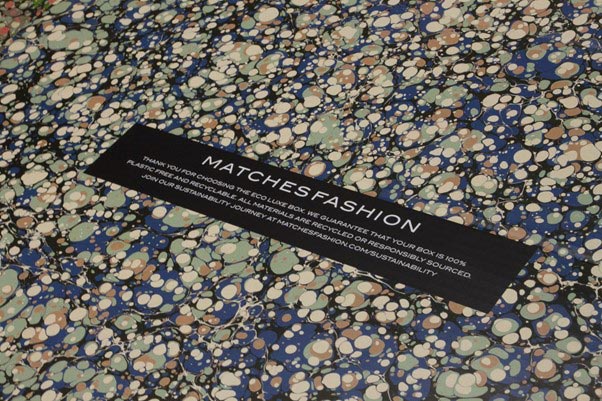 Our MATCHESFASHION packaging is central to its brand identity. The expressionist marble design patterns have become an immediate signifier of the MATCHESFASHION luxury ethos.  
Retaining this design was essential. But the use of the magnetic closure system was to be rethought. In its present state, the marbled Eco Luxe box's reusability was compromised by the inclusion of these magnets, which were used to secure the packaging.
We worked closely with the MATCHESFASHION team to develop a removal technique using perforation points in the box. Once a customer detaches the now-removable magnets, the box can be flattened, recycled, or reused. To achieve this, we utilised our bespoke technology, the Delta Global Removable Magnet System®. 
Made from FSC certified materials with a water-based finish, the completely sustainable nature of the box was achieved without compromise to luxury aesthetics or immediate brand recognition.  
We also ensured all its smaller packaging components, such as notes and returns slips, were responsibly sourced and completely sustainable.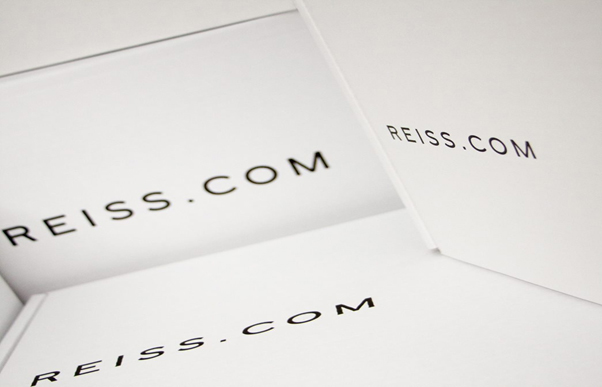 Delta Global's recent design for Reiss furthers its sustainability commitments. The design had to incorporate Reiss' pre-existing eco-friendly values and reflect the tonality of the brand.
Reiss have a design ethos that seeks to eliminate the unnecessary and the gratuitous. There was no room for non-functioning design features or jarring details. The packaging had to reflect the true essence of packaging design – to protect and present a purchased product to the highest possible standards – without encroaching on or hindering the item.
The packaging had to communicate the brand's core ideals without using grandiose designs. Trends were to be avoided to relay Reiss' signature take on enduring modernity. The modern, minimalist design style that defines Reiss had to inform its packaging.
Your sustainable packaging materials solution
For more information on our range of sustainable luxury packaging, contact the Delta Global team today.